Graduation Live Stream
2022 Graduation Ceremony Live Stream
Watch the School of Pharmacy graduation live stream on Friday, May 6 at 2:00 p.m.
Congratulations, Class of 2022!
Soon-to-Be PharmD Mohammad Hadaihed Aspires to Lead in Community Pharmacy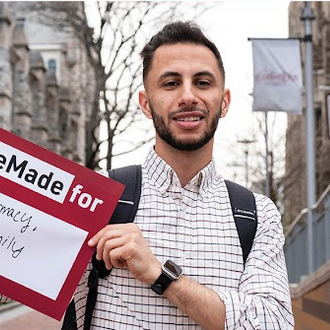 Mohammad Hadaihed
PharmD '22
Two generations removed from war-torn Palestine, Mohammad Hadaihed is preparing to receive his Doctor of Pharmacy degree from the Temple University School of Pharmacy on May 6, 2022. Inspired by his part-time work at CVS and his Introduction to Pharmacy Practice rotations at Pharmacy of America in Philadelphia, Mohammad has a vision to advance the future of community pharmacy.
Read More
Photo Gallery
Launch the slideshow below to see memories from your time at Temple.
*** summa cum laude
** magna cum laude
* cum laude
 
PLEASE NOTE: As final action cannot always be taken by the time this program is published, lists of candidates and awards are only tentative. The student's transcript is the official record of the university.
Congratulations, Graduates!
Celebrate your accomplishments as a new member of the Temple Alumni Association.