Graduation Live Stream
2021 Graduation Ceremony Live Stream
Watch the Fox School of Business graduation live stream on Friday May 7 at 9:30 a.m.
Congratulations, Class of 2021!
Photo Gallery
Launch the slideshow below to see memories from your time at Temple.
*** summa cum laude
** magna cum laude
* cum laude
 
PLEASE NOTE: As final action cannot always be taken by the time this program is published, lists of candidates and awards are only tentative. The student's transcript is the official record of the university.
Awards
Akanksha and Mucish Kalra Endowed Scholarship.
Darin McGee
Albert F. and Rosalyn M. Zanger Scholarship Fund.
Evgeniia Bucharova
Alexander Endowed Scholarship.
Elva Li
Alicia A. Bishop Endowed Scholarship.
Hamida Sanford
Alumni Association of Omega, Delta Sigma Pi International Business Fraternity Scholarship.
Destini Harper
Alwine Family Endowed Scholarship.
Jacqueline Gallen
Baucus and Company Scholarships.
Shawn Aleong, Anna Candelaria, William McGahey, Shayne Ordog and Sherell Rutland
Bernard Seder Scholarships.
Nilo Fekete and Maria Vyatkina
Bob Allen in honor of Dr. Myron Heidingsfield Scholarships.
Bryan Dinh and Angel Tran
Charles and Lynne Klatskin Scholarship.
Iryna Romanov
Charles P Hall Endowed Scholarships.
Kyle Morrissey and Bridget Rauch
Cindy L. Kalman Endowed Scholarship Fund.
Brandon Yang
Coletta Family Endowed Scholarships.
Ayse Uzun Pasternack and Jeffrey Van Valkenburg
Coughlin Family Scholarship.
Iryna Romanov
CSF Schwabb Scholarships.
Reginald Parks and Chrystian Simmons
Curtis Bicker Awards.
Mariya Alam and Oleksandr Nikipielov
Daniel T and Marybeth Garrett Endowed Scholarship.
Jennifer Molla
David E and Suzanne R. McElroy Scholarships.
Corinne Casey and Matthew Koller
David E. Paul Scholarships.
Valerie Feldman and Liam Price
DeTrane Family Endowed Scholarship.
Nghi Chau and Dixson Salazar
Dick Vermiel Endowed Scholarship
Bardyn Thomas
Dorothy Maron Scholarship Funds.
Opeoluwa Ade-odunuga, Morgan Baldwin, Jaime Benscoter, Corinne Casey, Haley Callinan, Meixia Chen, Jarnail Dhillon, Danielle Gordon, Samuel Greenfield, Emily Haines, Bryan Huang, Jimmy Kolesnikovich, Wendy Lin, Darin McGee, Michelle Ngo, Merlin Raju, Alyssa Simmens, William Strassner, Mindaugas Uzkurenas, Sean Wallace and Winni Zhang
Dr. Sidney D. Rothstein Memorial Fund.
Kayla Maerz
Dr. Stanley F. Chamberlin Memorial Award.
Alexey Sidorov
E.E. Mulholland Award Fund.
Tava Johnson
Earl and Phyllis Hannum Family Scholarship.
Shaniia Lassegue
Edward and Sylvia Pilch Scholarships.
Abigail Helterbran, Maggie Luong and Nathan Mai
Eugene S. Harris SMC '51 Memorial Endowed Scholarship.
Wendy Lin
Fahey Family Endowed Scholarship.
Ramez Rihani
Fox Faculty and Staff Scholarship.
Nidhi Patel
Fox School Alumni Association Awards.
Christelle Boursiquot and Ahmad Khalid
Fox School Community Good Neighbor Award.
Britta Schuler
Fox School Ethics and Social Responsibility Awards.
Chris Barba, Anna Candelaria, Kyea Michael, Jordan Mojka, Kenny Ouyang, Megan Patel and Nina Vafa
Fox School Ethics Award.
Emily Madara
Gene W. Owens Scholarship Fund.
William Keosann
Goldye and Marvin A. Comisky Scholarship.
Ashley Carulli
Gustav Auzenne Jr. Memorial Scholarship.
Ngoc Dinh
Health Admin Endowed Scholarships.
Anthony Wydan and Phanna Yoeung
J. Hazen Hardy Jr. Prizes.
Lindsey Feeney, Mia Garcia and Gabrielle Rivera
J. Hazen Hardy and Isabell R. Hardy Endowed Scholarship.
Sean Wallace
Jack King Memorial Scholarship.
Brooke Pridham
Jack Tierney Endowed Scholarship.
Alexander Pimental
Jacqueline and Henry Herskowitz Scholarship.
Janae Gopie
Jay Drob Scholarship Fund.
Bezlyn Eabu, Madison Joseph and Kesare Mowrer
Jay Lamont Scholarships.
India Eklind, Dylan Lloyd, Neil Patel and Victoria Sharpadskaya
Jerome and Edith Kaplan Scholarship.
Alexis Sloan
Jordan A. and Cynthia Katz Endowed Scholarships.
Keith Cardwell and Sarina Oeub
Joseph and Regina Brennan Scholarship.
Kyler Epstein and Marissa Miller
Joseph D. Pasquarella Family Term Scholarships.
Aaron Anello and Mahkiy Lee
Joshua G. Schwartz Scholarship.
Marzana Hussain
Kevin and Julie Johnson Scholarship Funds.
Luca Jorsling, Zoe Morgan and Najay Whatley
Kevin D. Hughes Endowed Scholarships.
Helen Hawkes and David Munoz
Knute C. Albrecht Awards.
Evgeniia Bucharova and Priyank Sukhadia
Lester and Helene Rosenfeld Scholarships.
Marisa Borman and Tyler Edwards
Lou Palitz '38 Endowed Scholarships.
Samuel Greenfield and Jimmy Kolesnikovich
Louis A. Valletta Memorial Scholarship.
Cienna Mattia
Margaret G. M. Foster Memorial Scholarship.
Merlin Raju
Mark and Shelly Kaplan Endowed Scholarship.
Mauricio Perez Gonzalez
Mitchell L Morgan Endowed Scholarships.
Shawn Aleong, William Bryant, Jennifer Rogers and Mindaugas Uzkurenas
Norris and Violet C. Shealy Endowed Scholarship.
Mariya Alam, Mishelle Gallant, Matthew Kanfer, Nikita Kovalenko, Kadey Lam, Brian Luu, Deja McClary, Zhaoying Mu, Safaniya Paul and Amanda Pelczar
OBBA Achievement Award.
Hailey Mills
OBBA Leadership Award.
Betzalel Tabannejad
Owens and McGoldrick Scholarship.
Lawanda Jenkins
Paul D. Fox Scholarship Funds.
Lam Cun, Jingwen Lin, Ida Lule, Joanna Mai, Marissa Miller, Ashley Riddick, Aaliyah Sanford and Camryn Williams
Pavlides Family Awards.
Emily Madara, Brett Pitts and Jakob Sokoloff
Peter A. Smith Memorial Scholarship.
Destiny Jenkins
Peter Hamel Memorial Scholarship.
Cheick Kamagate
Philip Bratspis Memorial Scholarship Fund.
Julia Didio
Rifkin Rosoff Endowed Scholarships.
Brendan Barry, Evan Gagne, Michelle Stanford, Cynthia Tedder and Jiayi Zhu
River Ward Scholarships.
Connor Lowry, Jessica Molla, Shane Soltycki and Celine Tobin
Robert and Joy Allen Endowed Scholarship.
Sameen Farooki
Robert Sacrey Scholarship Fund.
Kyler Epstein
Ronald and Eleanor Gross Endowed Scholarships.
Kurt Constantine and Nicolas Gyorgy
Rosemary I. Baisch Memorial Funds.
Francescia Cesar and Karmin Faiz
Roy T. and Peggy A.Diliberto Scholarship.
Kaitlyn Tran
S. Jay Sklar Scholarship Fund.
Joanna Mai
Samuel and Rhonda Hodge Endowed Scholarship.
Christina Joseph
Shannon Family Endowed Scholarship.
Evan McCue
Shirley Rock Endowed Scholarships.
Charles Bakhos, Nicholas Boyes, Matthew Guzzardo, Rebecca McCarthy and Kraftin Schreyer
SIOR* Society of Industrial Office Realtors Scholarship.
Sofia Melhor
SNL Endowed Honors Scholarships.
Spencer Balonis, Julia Hetzel, Gabriela Krants, Michael Pukala, Beth Whitehead and Jia Zhang
Sol Tutelman Memorial Award Fund.
Jaida Ragland
Stanley Merves CPA Undergraduate Scholarships.
Hanna Cramer, Kelvena Gorley, Marissa Miller and Ashley Riddick
Susan D. Menzies Scholarship Fund.
Isabella Freer
The David Cohn Memorial Scholarships.
Sarah Caron, Chakeem Cradle, Jeffrey Donahue, Tausif Kamal, Marina Pokotilow and Andre Sartor
The John & Sun Hee Won Endowed Scholarship.
Ananya Komerla
The Richard Haverstick, Jr. Endowed Scholarships.
Opeoluwa Ade-odunuga and Janiah Garnett
Willard "Mac" McFee Scholarship Fund.
Maksim Bolton
Visit site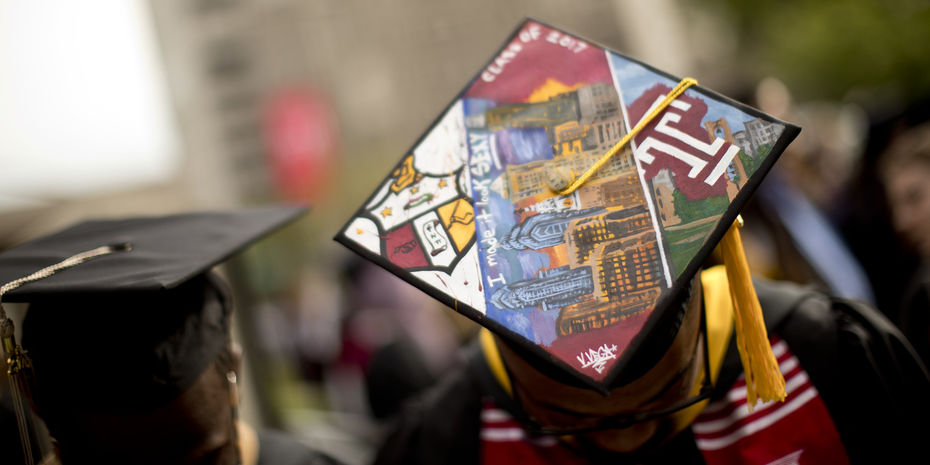 Celebrate the Fox School of Business
Celebrate the Class of 2021 with the Fox School of Business
Congratulations, Graduates!
Celebrate your accomplishments as a new member of the Temple Alumni Association.